At some point in the not too distant future, I would like to get back into doing blog entries with at least a modicum of insight to them, but in the meantime, COMA makes a wonderful stowage point for me to carefully stow good memories for safekeeping and eventual extraction. This past long weekend was so good, I need to record the highlights so I can measure future excellent weekends against it.
First of all, we had an opportunity to host, for the first time in a long time, our friends the Snikwahs from Camrose. A couple of previous attempts to get our families together simply hadn't panned out for whatever reason, and with 80,000 or so yahoos blowing into their neighbourhood for the Big Valley Jamboree, they played a refugee status card we were only too happy to assist with, and they are pretty musical so having them camp in the basement feels a little like you are helping out the Von Trapps.
Their two boys are very young, a toddler and an infant, and with Fenya due to metamorphose into a card carrying teenager
exactly
three months hence, being reminded of those early days was a real trip. I remember doing a lot more carrying back then, but watching Jon mule in all their luggage, plus several Rubbermaid containers of baby food and other items, as well as assorted paraphernalia like a portable playpen, brought the sheer sherpa-ness of managing a young family back into sharp relief. You can't overnight out of town without the equivalent cubage of a 4 person team scaling K2, including oxygen tanks. As fun as those years were, and as neat as they were to experience vicariously, I'm relieved our household has moved on to newer challenges.
We ate outside twice,which was a very pleasant surprise given the forecasts; grilled some burgers and some steaks, walked all the way around Beaumaris Lake, played some Rock Band, and best of all, stayed up way later than usual just chatting.
Thie following day the Snikwahs departed and Glory and Audrey went to a birthday sleepover that started out at the Heritage Days festival, so Fenya and I drove out to Leduc to show Nanny and Poppy the pictures from her UK trip. On our way back, we stopped into visit my sister and her new dog, Rufus. He's a shelter dog, and while his coloring smacks of the border collie, it looks as though he has some terrier in him, perhaps an Airedale. His face has so much character, and I think he is a great find for Tara.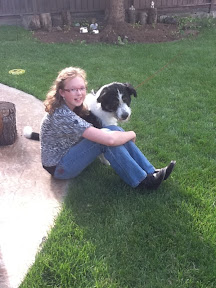 After sharing some Indian pizza with Tara, Fenya and I returned home. With Glory away, Fenya requested a grown-up movie, so we watched Black Hawk Down, with Audrey joining us for the last half. The next day, Fenya and I decided to make souvlaki, and struck out for provision safter breakfast: fresh pitas from Sunbake (and a bag of roasted nuts for good measure), pork and tzatziki from Safeway, and once home, Fenya made the marinade while I cubed the meat.
You can't rush a marinade, (thank the stars!), so the hammock got deployed in the meantime, and I read about a two year run of Achewood on the iPad while Audrey got some solid time in on A Storm of Swords. I also did a modest amount of wrenching on the girls' bikes, as the wetness of the summer and the busy-ness of our schedules has precluded the necessary seat adjustments and kickstand transfers to date.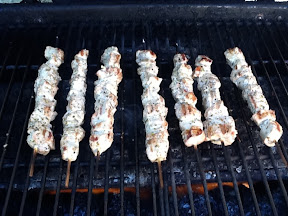 Now the evening repast is concluded, and it is still pleasant but a little cool in our backyard; the souvlaki turned out fine (although I will marinade it overnight next time, and sprinkling the additional oregano onto the grill made my barbecue smell like a Neil Young concert I once attended), the dishes have all been cleared away, and I am finishing an Aprikat as I wrap up this blog entry. Absolutely nothing earth shattering or tremendous was accomplished this weekend, but a wonderful confluence of family, friends, food and fair weather have all conspired to leave me even more appreciative of the good things in my life than usual. I hope yours went similarly, wherever you are and whoever you're with, and if it didn't, I hope Labour Day makes up for it.