It so happens that nearby St. Albert has one of western Canada's largest and fastest growing car festivals, Rock'n August. We went there tonight with friends to check out one of the smaller show and shines, with over a hundred cars, trucks, vans and jeeps ranging from the '20s to the present day, and a large concentration of them from the '50s and '60s. Last year's festival had almost 700 vehicles participating, so the big show on the weekend should be great.
I don't know a lot about cars, truth be told, and even less about engines, so I am one of the few people at these events who think the vehicles look cooler with the hoods down. I do appreciate cars though, and the work that goes into restoring and maintaining vintage autos.
A 1951 Willys Jeep like this one would be a lot of fun to drive around in the summer, especially if you are going slow enough to lay the windshield down against the hood.
Audrey loved this Crown Vic from the 50s, but I think the bubblegum pink inside and out had a lot to do with it.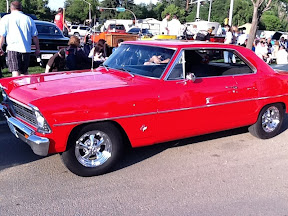 I was more partial to the vintage muscle, like the numerous Barracudas I saw, and this Chevy Nova, more out of nostalgia than any appreciation for horsepower.
Or this boastful Camaro SS with its 396 engine. I sometimes think that the fact I can't afford such a ride is actually a subconscious defense mechanism to keep myself from getting wrapped around a light standard somewhere. As much as I might wish otherwise, it probably is a good thing that Dad sold his 1974 Cadillac Sedan DeVille two weeks before I turned 16. Sigh.
Strangely, the rides with most appeal for me are the old VW microbuses and camper vans, especially the ones with the bitchin' orange plaid interior. We saw one with three rows of seats, tons of chrome appointments and a big canvas sunroof you could retract in decent weather. Could you imagine taking a group through the Icefields Parkway in that?
Maybe not...
- Posted using BlogPress from my iPad