Vera had intended to loan us her Subaru so we could visit Ottawa, but Nick lent us his newer Volvo wagon instead, and even packed us a lunch for the road. (It needs to be said that Nick is really raising the bar for me in terms of hospitality standards!) It's about a 6 hour drive to the nation's capital from Magda Farm, an hour of which is simply traversing Toronto on the 401, and even longer if you go at rush hour.
By mid afternoon we had reached the home of two of our college friends, Jim and Pam, and their two children. After a fantastic supper of ribs and corn on the cob, they suggested we all go to the nearby beach at Mooney's Bay, and we swam in the Rideau Canal just downstream of the rowing club, on a sandy beach.
The following day we all just managed to make it to Parliament Hill in time to see the changing of the guards. I've always had a soft spot for this sort of military tradition, and the girls got to sit on the ground in front of the crowd for a comfortable and unobstructed view.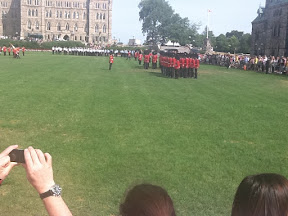 Afterwards we rode up to the top of the Peace Tower and also visited the Memorial Chamber. We had to wait before going up as there were a number of Afghanistan veterans involved in a page-turning ceremony, so we were only too happy to accommodate that.
Afterwards we said farewell to our hosts and wandered off to the National Gallery. We didn't have as much time as I would have liked, but if your kids go to an arts school, you at least want to make an appearance, right? We also got the obligatory picture of the girls cowering underneath 'Mother', the enormous, spider-shaped sculpture outside the gallery, but I took it with the camera and not the iPad, so I will have to wait before sharing that one. On the way back to our car, we also came across the changing of the guard at the Tomb of the Unknown Soldier.
Next, we were off to meet our friends Rob and Caro and their baby Maya, who has got to be the pudgiest, happiest and generally most laid back 6 month old I have ever encountered.
The next morning, Rob joined us as we ventured off to the Canadian War Museum, which has got to be one of the best museums I've ever visited. A fantastic collection, well presented, and lots of interactive bits for the girls.
I took most of my pictures here with my regular camera, as the iPad is not that great in low light. Still, I did want to share one picture from the Cold War exhibit that Rob found especially interesting:
If it isn't already taken, I think 'Armageddon- Push Button to Start' would make a great album title, or maybe even a band name.
Should you get the opportunity to visit the War Museum, and I certainly hope you do, take a moment to visit the Memorial Hall. There they have mounted the original tombstone of the Unknown Soldier in such a way that it is struck by a beam of sunlight at 11:11 on November 11, and it is also a lovely space to reflect or pay one's respects.
We then made our way over to Gatineau for the Museum of Civilization, to explore the Canada Hall, which covers a thousand years of Canadian history. We also toured the Japan exhibit, which showcases that country's ability to accommodate innovation and tradition, as well as they have had robotics since the Edo period, over 300 years ago. The exhibit is a nice counterpart to the Zen garden just outside the museum.
There is not a while lot to be photographed inside the museum itself, but I did take a photo of this roof mural, mostly because I found the colours mesmerizing and also because I thought it might make a nice wallpaper for the iPad.
I also managed to snap one of this sculpture, which should look familiar to anyone who's looked at a $20 bill.
This made for a pretty full day, but nary a word of complaint from the girls. We returned to Rob and Caro's for some Asian take-out and a welcome dip in their backyard pool, before collapsing into bed in preparation for a long drive back to Magda Farm the next day. As insightful and inspiring as the exhibits and ceremonies were, the real treat was re-connecting with distant friends and their families.
- Posted using BlogPress from my iPad