Years ago, Nick built an exceptionally sturdy treehouse for his boys in an apple tree in the yard. The sturdiness is hardly surprising, as the man is an accomplished carpenter, but discovering that the treehouse is wired for both electrical power and telephone was a bit unexpected.
Nick had floated the idea that the girls could spend a night in the treehouse, and it was met with initial excitement, but a doubt snake crept in later and laid worrisome eggs that had the girls second-guessing their decision.
Then Auntie Vera suggested the girls could perhaps paint the treehouse before deciding on bunking down, and Fenya and Glory leapt at the opportunity. Some water-based paint was dragged out of the cold room, some painting shirts were found, the sleeves rolled back and held in place with elastics, and they practically raced off to begin redecorating.
While Audrey and I were off at the outlet mall in St. Jacobs finding sandals for her, they painted with barely a break for lunch. By the time we returned, a thunderstorm was passing through the area, but they were practically finished.
Glory had originally campaigned for mixing red and white paint to make pink, and totally girlifying the place, but Fenya suggested that with it really being a boy's treehouse and the two of them being guests, a more unisex design might be in order.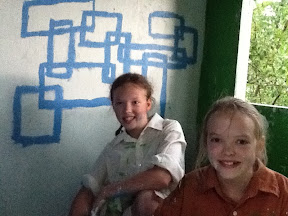 Frankly, any points they might have lost for finesse they more than earned back for boldness of design and speed of execution (less than seven hours). Also, full marks for remaining so productive without direct supervision.
There appears to be room for improvement in the personal cleanliness department however, with the tip of Glory's ponytail looking like it had somehow gotten dipped or perhaps been used as an improvised paint application device.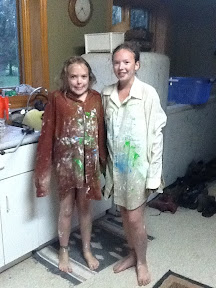 Still, with the paint being water-based and all, this kind of minor mess is a small price to pay for a memory I am certain the girls will keep for the rest of their lives. Next week they may even sleep in it...
- Posted using BlogPress from my iPad