I know a couple of people who recently wrapped up some fundraising for prostate cancer in support of Movember.
I've seen a few boxes getting filled for Santa's Anonymous, which is an awesome charity. I've loved Santa's Anonymous since I was a kid hearing "And a Creature Was Stirring" on 630 CHED for the first time. (Seriously, if you haven't heard it, or just miss it, take four and a half minutes and listen to it
here
.)
At work, we have teams competing to see who can gather the most toys for the kids at the Stollery Children's Hospital, and that's going ridiculously well.
Everyone at my church was given some white kitchen garbage bags and a list of needed items about two weeks ago, and today, on what is called White Gift Sunday, we all brought our bags to the front of the church.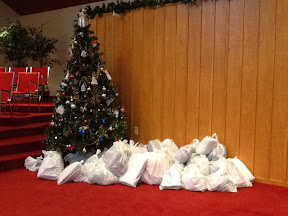 There is nothing fancy in them,and very little in the way of toys, but there are new socks, winter caps, underwear and mittens; razors, deodorant, toothpaste and feminine hygiene products. All these bags and everything in them (as well as some cash from the people whose faces this morning practically screamed, "Oh crap, that's today?") will be brought to the Mustard Seed Church and Bissell Centre in downtown Edmonton.
It's not the kind of stuff that's going to turn anyone's life around, but in the midst of winter, it has the potential to make a lot of lives just a little more bearable.
The older I get, the more Christmas turns from getting to giving for me. At first this was centered on the lovely lady who (astonishingly) chose to share my life, and then it gravitated to our offspring.
As they grow older, I've come to realize that one of the most important things I can give them is a model of what giving looks Iike and who it benefits. And not just the obligatory tithing we all do when a hat gets passed; the thing I appreciate the most about White Gift Sunday is that both girls have some money they set aside for charity, and they get to choose some items that will have a positive impact on someone else's life. The fact that this can be something as simple as toothpaste tells me that as a society, we are still short of getting our balancing act right.
For everyone who gives, no matter what or how or when, you have my thanks. Please take a moment to let others know that you are giving, so that they can get the idea and maybe give a little too.
- Posted using BlogPress from my iPad