Early Friday morning, we commemorated Canada Day in an unconventional fashion: by sending Fenya out of the country.
The Cantilon Chamber choir is heading to Wales to compete in the prestigious
Eisteddfod Festival
, and will be performing and rehearsing in some amazing venues, including a crypt, a dungeon, and the chapel at Windsor Castle.
They are also taking some time to do some touristy things, like visiting the "Fab4D" experience in Liverpool, Stonehenge, Salisbury Cathedral, and the London Eye. In preparation for this trip, we got Fenya to read 'Sarum' by Edward Rutherfurd, and she and I watched multiple episodes of Red Dwarf, as well as the movie 'Zulu' (mostly due to the Welsh choir, even if they do use different lyrics for "Men of Harlech").
That part was pretty easy, the harder part was the
emotional
preparation; after all, it is quite the expedition for a gal of twelve. Thankfully she already has a couple of summer camp experiences under her belt. We tried to avoid drawing too much attention to the countdown as it drew near, but I still managed to put my foot into it last week by saying, "I guess this is our last Sunday dinner together for a while, eh?"
By and large, Fenya has been excellent about the whole thing, and the departure went off without a hitch, and with nary a tear, at least on our parts. There was one sniffly chorister and one red-eyed mum, but for a group of 48 singers aged 12-19,that seems pretty good.
This is the first major tour for the new general manager, but founder and artistic director Heather Johnson has had a lot of experience doing this, and it showed as she got everyone organized to board the coach that would take them to Calgary for their flight. She had everyone present their performance uniforms prior to stowing their luggage, and the only hiccup came when one chorister (not Fenya!) couldn't present her passport and had to have her suitcase pulled out from beneath the bus in order to retrieve it.
Such an undertaking is obviously a mixture of excitement and fear, and as long as the balance favors excitement, all tends to go well. Fenya was clearly a bit anxious about the whole affair, but kept her wits about her, and best of all, kept a smile upon her face through the whole affair, even as the bus pulled away from the curb by Robertson-Wesley church where they regularly rehearse.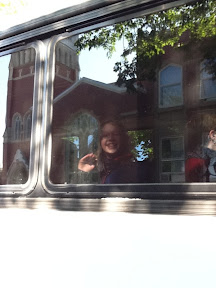 Now she is incommunicado until she returns on the 16th; Heather has banned all electronic devices like cellphones and such, as she feels they run a real risk of increasing homesickness, which, as we all know, is only slightly less contagious than smallpox. So all we can do now is hope our well wishes and prayers can make it safely across the Atlantic with her. She is a smart, sensitive lass in very good company, so we have faith in her having both a great adventure and a safe return!