There comes a time on any vacation when it becomes paramount to let someone else do the driving, and to give one's feet a rest. In our case, this was Tuesday in Toronto.
There are a number of bus tours available in Toronto, including the Hippo Bus, which is amphibious and can roll right into the harbor for a short tour of the shore. We chose instead a double decker tour with hop-on/hop-off privileges, and which also included a short boat excursion. Before boarding the Harbour Star, we had a chance to explore Queen's Quay and the newly revamped harbourfront, and to see some other boats, like the schooner Kajama.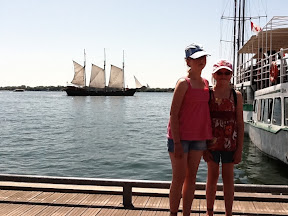 This wavy sculpture brings a bit of verve to a formally drab section of sidewalk near the quay.
The boat tour itself was only about 40 minutes, but gave me a different view of the harbour islands, and even taught me a couple of things. For instance, I had no idea that the islands were actually a peninsula until a huge storm in 1850 broke it off.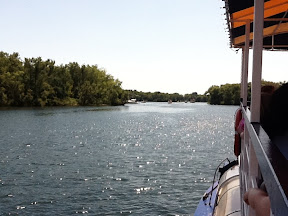 Best of all though, the boat ride gives you a wonderful opportunity to view one of Canada's most distinctive skylines.
After returning to shore, we took about a 90 minute guided tour of Toronto on an open topped double decker bus, seeing lots of old buildings, and learning a bit more about the city Audrey and I called home for four years in the nineties.
In the old distillery district we saw an area that has been used in a number of movies, including Magneto's parents being taken away in one of the X-Men films.
This building is reputed to be one of Canada's skinniest, although I couldn't really tell you precisely how they determine that...
We also got to drive past Toronto's own castle, Casa Loma, which you might recognize from the first X-Men movie, or from seeing Scott Pilgrim thrown against it.
I was also surprised to see exactly how much Dundas Square had changed since my last time seeing it, and how it really is beginning to look like Canada's Times Square. The jury remains out as to whether or not this is, in fact, a good thing.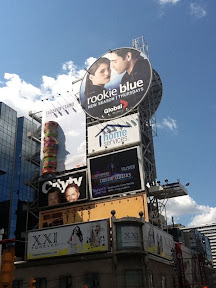 All in all, the bus tour was a great way to explore a great city. Unfortunately, we didn't really have time to really enjoy the on/off privileges, as we had to rush off to our dinner engagement, but we did get to stretch our legs in front of the Metro Toronto Convention Centre and get some ice cream. I'm somewhat jealous that Edmonton has so few ice cream trucks that can serve soft ice cream like this, but maybe that's for the best.
- Posted using BlogPress from my iPad