Another full day began with our attending Guelph's Farmers market. We were not about to second guess Nick in the provision department, but we did want to get some non-grainy bread for Glory, and the girls bought some jewelry and art.
Fenya got a print of a wolf in front of a west coast aboriginal wolf totem, which should look awfully good framed up in her increasingly wildife-themed room, and Glory got some paper bead earrings from Uganda. Audrey got a pair of earrings and a pendant featuring the Celtic Tree of Life, which I mistook for the Norse world-ash, Yggdrasil, due to its nine branches (and the Tyr song, "Nine Worlds of Lore").
We meandered about Guelph a bit, a pretty city with a lot of artistic activity and some gorgeous architecture, and ended up at Riverside Park.
Audrey only wanted me to take this picture so she could have Vera identify the plants, but it seems a shame to only use it for that. The park is perhaps not as 'fresh' as it might have been, but gardens are still lovely, and they have one of those floral clocks we don't see too much of in Alberta.
Down by the riverside itself, they have a miniature railroad and antique carousel, but neither of them are a patch on the ones at Fort Edmonton. There are more gardens and a wonderful tile mosaic though.
I am having a terrible time with my sense of direction, which is normally pretty decent. I wonder if the differing height of the sun makes a difference? At any rate, it turns out we had stumbled on to the park completely by accident, and once we re-oriented ourselves, we headed back to the farmers market for a light lunch of turkey pepperettes, vegetable samosas, and some absolutely brilliant potstickers from Feng's Dumplings. We sat outside to eat, drinking fresh-squeezed orange juice and hibiscus iced tea, and after we finished, Fenya tipped the busker who had serenaded us while we ate.
We returned to Magda Farm to pick up Vera and made our way to nearby Fergus for their annual Scottish Festival and Highland Games. We missed the hammer throw, which I like quite a bit, but were in time for my favorite, the caber toss. The day's winner managed a nearly perfect toss of 12:15 (12:00 is the goal).
I love how so many of the Olympic events are peaceful derivations of warlike behavior, like the javelin and discus, while the Highland Games appear largely to be the kind of things one drunken Celtic would dare another to do, like hurling a heavy weight above a bar directly over one's head, or flipping a telegraph pole end over end while looking for geometric accuracy.
They were nice enough to bring the weight around that these burly men were hurling 17 feet into the air. 56 pounds, and they have to fling it one handed, while hiking their kilts out of the way for good measure! Fenya was able to get it to her knees, but not much further.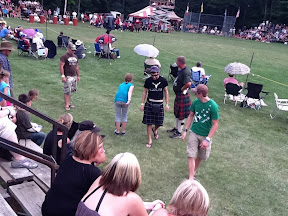 There is also a fairly huge pipe band competition, and for the finale they have ALL the competitors come out and play en masse, and let me tell you, that is some kind of impressive, especially when they play Amazing Grace and I start thinking of Mr. Spock's funeral in Wrath of Khan...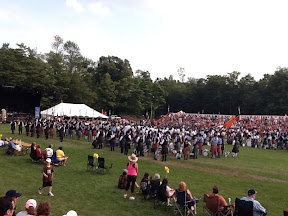 We were unable to find the 'haggis on a stick' that Nick had assured us would be there, but all other manner of unhealthy fair fare was there. Onion rings, poutine, deep fried Mars bars, we shot the works. We even had time to pop into the beer tent for a cold one (Coors Light and Creemore Springs? That's it? At a Scottish Festival?), while my mates were simultaneously on the patio enjoying one back home in Edmonton. Slainte!
They even had a whole area set aside called the Avenue of the Clans, where over two score Scottish clans had troves of genealogical information as well as all manner of family name knick-knackery. When I see the length and breadth of all this heritage and pride, I'll be honest with you, sometimes I'm maybe a wee bit jealous of the Scots...
..but then I remember St. Patrick's Day, and I feel a whole lot better.
- Posted using BlogPress from my iPad