Audrey's sister Vera picked us up at Pearson Airport,and drove us out to Magda farm near Guelph, where she lives with her beau, Nick.
Nick bought Magda farm quite few years ago, using a gift from his grandfather. In gratitude, he named the farm after his grandfather's wife, Magda, which made his grandfather very happy. Nick is a professional carpenter, and has replaced the interior of the original brick farmhouse and built a significant addition with rooms for his three sons.
Vera and Nick sell pasture-based pork and beef from
Magda Farm
, as well as free range chicken and eggs. Nick also has a company which designs and builds energy efficient homes, and Vera has some greenhouses on the farm where she raises bedding plants she sells at farmers markets in the spring and early summer. Being fluent in Spanish, she also does translating work from home three days a week, so it is very easy for someone like me to feel like quite the underachiever at Magda Farm!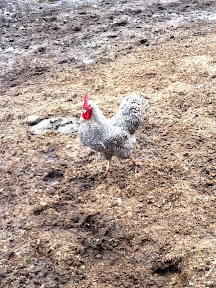 We awoke to heavy rain Sunday morning, and a hearty breakfast cooked by Nick, served on the veranda. Glory helped Vera move the cows between pastures, and later on both girls and Audrey helped her to move these ingenious chicken runs further down the field.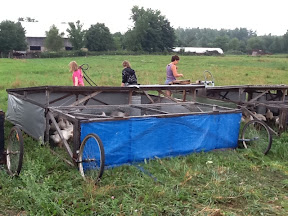 Despite being city kids and prone to allergies and the like, Fenya's love of animals and Glory's need to be a helper (God bless 'er!) had them taking to farm life right away. They even got to help in an impromptu cattle roundup when the cows got out of their pen and meandered outing the yard, which has to be at least a little ironic for two kids from Alberta, right?
Before supper we all went swimming in the pond Nick had dug out back. It's 17' deep for the most part and is home to minnows, clams and a significant number of bees who peacefully drink at the water's edge, and who insure you enter the water at a sub-breakneck pace.
Audrey and Vera appreciated the opportunity to wash off the dust and mites they accumulated while cleaning out the chicken coops, and Fenya and Glory just loved the chance to get wet and fool around. When asked, both daughters said they would rather have a pond than a pool, which I found inexplicably delightful.
After supper, Christopher, Cody, and Colin and I sat on the veranda and played Zombie Dice until it became too dark. Then the adults sat out and talked, without agendas and without wristwatches, until the call of our bedclothes became louder than the crickets, and we finally retired.
- Posted using BlogPress from my iPad