Monday morning, we deployed to Toronto and headed straight to the CN Tower. I was sure to take a moment to stand at the base of it and direct Fenya and Glory's attention up, waaaay up, Friendly Giant style to give them a sense of the general massiveness of the structure, as well as to point out the location of the infamous Glass Floor.
We were advised that since the line-ups we still fairly tame, we should consider heading straight up to the Skydome observation deck after the 58 second elevator ride to the main observation level. We did this, and it is a good thing we did, as the line got positively Brobdibnabian later on, but it still meant that from the girls' perspective, the first 40 minutes of the CN Tower experience was all about waiting in line for an elevator ride.
Once we exited the second elevator and proceeded onto the world's second highest man-made observation platform, things began looking up. Well, down, mostly, but you know what I mean. It was a sightly hazy and overcast day, so we weren't able to see New York state or Niagara Falls or anything, but so long as you can look down and say to yourself, "My word but those people look small down there," you are getting the bulk of the tower's significance and effect.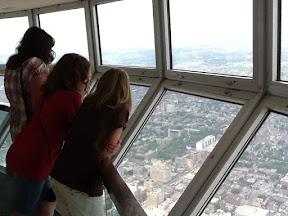 From there we headed down to the glass floor, where I convinced to girls to jump onto the clear surface from the opaque area, something I have always found disorientatingly thrilling. Fenya did minimize the effect by looking forward instead of down as she leaped, so I don't know if that should count
Out tickets also included admission to a 3D movie about the ultimate wave in Tahiti, which was not too bad, and a movie-ride called "Himalamazon" which was fairly standard but did spice things up by spraying a bit of water into the cabin to give the effect of crashing into the water.
There is a new attraction at the tower called Edgewalk, which, for $175, will enable you to walk around the top of the tower from the outside (!), while safely harnessed and wearing something suspiciously close to prison coveralls
At the end of the day, I suppose it is easy to be blasé about the CN Tower; after all, it's been around for almost four decades, it doesn't really do anything except be really tall, and thanks to a tower in Dubai, it isn't even the world's tallest freestanding structure any more.
Still, it was the champ for something like 32 years, which is quite a feat given the competitive age we live in, and it still towers over the tops of the other skyscrapers in the skyline of Canada's largest city. Maybe you can stand at it's base, or near it's summit, and say, "Well, it's big and all, but I remain unmoved," but I would certainly hesitate before calling that degree of jadedness any sort of victory. I remain solidly impressed.
- Posted using BlogPress from my iPad