My good friend Pete has made tradition of having all of us D&D nerds and our significant others over for a dinner party twice a year, coinciding with the change of seasons. He calls it the Geequinox, and it has become a highly anticipated event.
This year, he has decided to present a dinner themed after George R.R. Martin's Game of Thrones, served in seven courses in honor of the Seven Kingdoms that serve as the story's setting.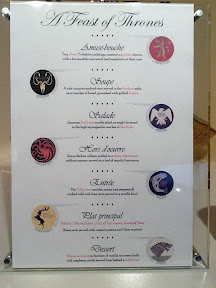 The first course, prepared in Pete's Big Green Egg BBQ/smoker, was an amuse bouche consisting of Dwarf Beef-stuffed Yorkshire Puddings a la Tyrion Lannister.
It turns out that anything your oven can do, a wood burning contraption like this can do even better.
A bit of pastry, a bit of beef, and a pinch of horseradish made for one of the best appies Pete has ever made, and he has made some beauties!
- Posted using BlogPress from my iPad